| | | |
| --- | --- | --- |
| May. 28, 2009 | Here's Randy's Weekly KTRH GardenLine Tip: | Issue #117 |
POTTING SOIL POSSIBILITIES
As many of you who have listened to the radio show long enough probably know, I do a lot of appearances on Ch. 11's Great Day Houston, with Deborah Duncan. On one of the more recent visits, when talking about "Indoor Houseplants Made Easy" it spawned a lot of email questions. And in every single case they were about the "soils" I talked about on the television show. Here is just a sampling:

"Randy, I only caught a bit of what you said about the best potting soils that you use for indoor plants. What were those names again?" Sara D., West Houston

"I saw you on Ch. 11 talking about what potting soils NOT TO USE, but I could tell you really didn't have time to explain why. I want to know why you don't like the cheap bags I see at the grocery store?" Analees S., Midtown.

"Randy, you talked about a few potting soils that you like, but you didn't mention Miracle Grow Potting Soil; Why not?" Karen J., Woodlands

"On a recent television spot you did with Debra Duncan, you mentioned your favorite potting soils, but where does one get them?" Darlene D., Pearland

I will try to answer all of those questions and give you a bit of an overview on potting soil for indoor houseplants and patio plants that I hope will help all of you. First, let's remember, I'm talking about indoor tropical houseplants and their ilk, as well as patio plants that are in containers and mostly green in nature. I'm not talking about hanging baskets, nor am I talking about containerized gardening plants that are pretty much outdoors.

In my book, Gulf Coast Gardening with Randy Lemmon, there is an entire chapter dedicated to Indoor Houseplants Made Easy, and one of the rules is "PROPER SOIL." The theory in the book is that in almost all cases where someone gets a "houseplant" from a nursery or floral shop or as a house-warming gift etc., it needs to be re-potted into better soil right away. The main reason, if you haven't already figured it out, is that the soil that they originally come in is too loose, too friable, and usually must be watered every day. Floral shops can do this as well as nurseries. You are not likely to water every day, and that's why many people kill houseplants.

So, logically, you shouldn't buy that same kind of fluffy potting soil to re-pot the plant in. Likewise, you shouldn't buy cheap potting soils for .99 cents a bag that are too clay-based. And in almost all cases, the cheap bags at grocery stores and/or big box stores fall into one of those two categories.

Now, while the better POTTING SOILS are fluffier than outdoor bedding soil (or Rose Soil for that matter), they also have this wonderful mix of beneficial things like Haydite, Perlite, Sand, Peat Moss and Humus.

My three favorite potting soils that I can find at most garden centers in Houston are:

Vortex Potting Soil – Lady Bug Natural Premium Potting Soil – Easy Gro Jungle Growth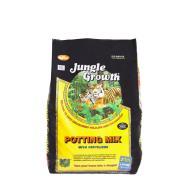 I encourage you to buy any of these and compare them to the cheap-o bags of potting soil at the grocery stores and/or box stores. In fact, I will help you with this comparison this Saturday, if you'll come to our last GardenLine appearance of the spring gardening season. I'll be at Buchanan's Native Plants at 611 East 11th St. in the Heights from 11 a.m. to 1 p.m., and I will have one or more of the cheap-o bags of potting soil with which to compare. That way you can see for yourself the difference I'm talking about.

In order to do that, we are going to rip open a bag of Vortex Potting Soil from Lady Bug Natural, which just so happens to be my favorite potting soil of all time. The reason I like Vortex so much is that it has zero Peat Moss. I'm not slamming Peat Moss totally, in fact the other two bags I recommend – Easy Gro Premium Potting Soil and Jungle Growth – have Peat Moss. But it's not the only thing in either of those two bags.

That also answers (in part) one of the questions from above. Why don't I recommend Miracle Grow Potting Soil. It's not that I don't recommend it, per se. I don't like its fluffier nature and Peat Moss Content, but more importantly I don't like there of a 15-30-15 ratio fertilizer (which is Miracle Grow) embedded in the mix. This doesn't work for indoor houseplants. While some people may get the benefit for flowering plants, I'm still using these soils mostly for indoor tropicals. They usually require fertilizers that are higher in nitrogen for 'greening-up' purposes. It by no means is the worst potting soil, just not one I would recommend over the other three.

So, in some round-about ways I've answered all but the last question from above. And here's sort of the answer to the last question – "Where do you find the Potting Soils you recommend?" The obvious first answer is at Buchanan's, but more on that in a moment. Most independent nurseries and garden centers carry the three highly recommended potting soils. If they carry Nitro Phos products they usually carry Jungle Growth. If they specialize in organic products they almost always carry Lady Bug Natural – Vortex. And if they carry Easy Gro Products, they almost always have that label's Premium Potting Soil on hand. By the way, Easy Gro also has a tad bit of fertilizer in the mix, but it's at 3-1-2 style ratio, which is better for that 'greening-up' purpose I noted earlier.


Back to the visit at Buchanan's to help wrap this up – If you'll print out this email tip and bring it to me from 11 a.m. to 1 p.m. this Saturday May 30th, I will give you a free bag of Vortex Potting Soil from Lady Bug Natural. (Obviously, while supplies last) That way, you can see for yourself, when I rip open a bag of two of the cheap-o brands and compare that to the Vortex. Then, you too can try it for yourself on your most sickly looking houseplant or patio plant. As a rather cool aside, Lady Bug is bringing a whole pallet full of their products to give away, even if you don't need the Vortex.
Until next issue, here's to Great Gardening from the GardenLine, heard exclusively, 6-10 a.m. Saturdays and 7-10 a.m. Sundays, only on NewsRadio 740 KTRH.

Visit the GardenLine Home Page!
Randy's Tips Archive • Previous Newsletters • Podcasts • Appearances

G
ardenLine Listeners and E-mail Tip Subscribers can purchase a copy of my new book at discounted price!
Gulf Coast Gardening with Randy Lemmon
Check it out!
Garden retailers interested in stocking the book, should call the Nitro Phos Warehouse at 713-228-1868 for wholesale ordering information.
Click Here for
Our Printer-Friendly Version
Click Here for a complete
KTRH program schedule
E-mail The Editor. Please feel free to forward this issue to friends and associates. Anyone can subscribe for free.
For Advertising Information: Bo Brown, general sales manager - 713-212-8013; Nick Peterson, online sales manager - 713-212-8520
You are receiving this newsletter because you requested a subscription. This newsletter is optimized for Microsoft Outlook. If the newsletter doesn't display correctly in your e-mail program, see our online version. To unsubscribe, instructions are at the bottom of this page.

© 2009. Powered by Clear Channel's ktrh.com.