| | | |
| --- | --- | --- |
| February. 5, 2009 | Here's Randy's Weekly KTRH GardenLine Tip: | Issue #105 |
Texas Tough Perennials
Plus, a Shameless Plug For My Book "On The Cheap"
Before we get to the crux of what this week's email tip is all about, please allow me a short tidbit from the "shameless plug" department. I hope you'll also realize that while it's plug for my book Gulf Coast Gardening, it's also an attempt to help save you nearly half-off the regular price of my book. I will be broadcasting this Saturday from the Woodlands Home & Garden Show at the Waterway Marriott and Conventions Center on Lake Robbins Dr. in the Woodlands.


I will be selling the book for $10 each if you buy two or more of them. They are $15 for a single copy. Plus, if you buy 2 or more, you will also get a free garden gift from us, some retailing up to $25. So, if you think about it, you can get nearly $65 in books and product for only $20. But this deal will only be good until 2 p.m. that day and at that location.

Plus, there's a sell on "signed" copies of my book at participating Ace Hardware stores all over town this weekend. So, if you can't make the Home & Garden Show up at the Woodlands this Saturday, at least you know that if you have a participating Ace Hardware store in your area, you can get a signed copy there for $15.95, while supplies last. Just remember too, the key word here is PARTICIPATING stores.

With that shameless plug out of the way, I want to focus on low-maintenance or as I also like to call them "Texas Tough Perennials". Although we have had scant little rain this late winter/early spring, it's important to note that none of these perennials will work early on, if you don't baby them for the first 6 months after planting. Then, if by some unfortunate circumstance we have similar conditions next year, that's when these babies become all you want them to be in the no-muss, no-fuss department.

There are quite possibly hundreds of varieties of "drought-tolerant" perennials, once they are established, but this is just a small list I put together for a similar magazine article many years ago. There are dozens upon dozens of perennials that, at any given time, I consider to be my favorites for Texas landscaping. But that list becomes much smaller when looking for the Texas Tough flowering perennials. If you love to garden like I do, but don't have much time to spend weeding, watering, feeding and fussing over such plants, you're going to love this low-maintenance list.

But before I get to that list and description of those perennials, let's discuss the criteria for these Toughies. First, they have to be truly low-maintenance. In other words, once you plant them and forget about them, they can survive with little to no maintenance once established. (Remember the 1st six months rule above?) Katy Ruellia is a perfect example of such a perennial. Second, these perennials won't die from an insect attack. They can get insects, but if left untreated, they won' necessarily die from such an insect infestation. Purple Verbena and Lantana are great examples of that category. Thirdly, they have to be durable to withstand our intense summers and conversely an average freeze in the high 20s and low 30s won't kill the plant either. Any perennial can thrive in our spring, but how they survive our robust heat and humidity from June through September is what separates these low-maintenance perennials. The last element on my criteria list is that they will flower without the need for mega-doses of bloom enhancing fertilizers.


• YARROW (Achillea millefolium): selection available in red, pink, or white (white form is weedy); fern-leafed foliage; blooms spring and fall; drought tolerant; good groundcover; excellent cut or dried flowers; full sun to part shade; blooms May-July. 1 foot tall usually.


• MEXICAN HEATHER (Cuphea hyssopiafolia) Debatable for some whether a perennial or shrub; since it regresses severely after winters, I say it's a perennial. Everyone knows it, with purple flowers and mounded form; blooms 6-8 months throughout the year; usually mounds at 1-2 feet.


• DAYLILIES (Hemerocallis) OK, another stretch, these are actually bulbs, but for our discussion I consider them perennial bulbs, and they're easy to care for. Bloom in may shades or orange, yellow, pink and red. Bloom April through May mostly; up to 3 feet.


• RAIN LILY (Cooperia) Again, it's a bulb, but because of it's Texas Native quality and easy care attributes, a perennial category; white and yellow blooms that prosper in our summers; blooms July through August; 1-2 feet.


• HINCKLEY'S COLUMBINE (Aguilegia Hinkleyana): exotic yellow flowers, delicate foliage; Texas native; moist organic soil; susceptible to spider mites; shade to part shade; blooms March-May; 18 inches


• LOUISIANA PHLOX (Phlox divaricata): purple to magenta pink flowers; blooms in early spring, hardy; drought tolerant; low growing up to 12 inches. Short bloom period, but hardy ground cover year-round; blooms Feb-April.


• 'NEW GOLD' LANTANA (Lantana camara): many flower colors; shear occasionally; ever-blooming; heat and drought tolerant; sun; blooms spring, summer and fall. 2 feet.


• KATY RUELLIA/MEXICAN PETUNIA (Ruellia Brittoniana): purple flowers; ever-blooming invasive; shear occasionally; drought tolerant; hardy; sun; blooms spring, summer and fall. 2 feet.


• 'INDIGO SPIRES' SALVIA (Salvia hybrid): purple flowers; shear occasionally; very vigorous; excellent; sun; 3 feet.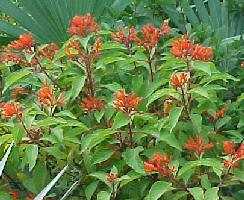 • FIREBUSH (Hamelia patens): red-orange, tubular flowers, prized by hummingbirds; red fall foliage; ever-blooming; drought tolerant; shear occasionally; sun to part shade; hardy; 2 feet.


• 'TEXAS-TUFF' VERBENA (Verbena hybrid): pink, purple or red flowers; ever-blooming; shear frequently; excellent groundcover; drought tolerant; susceptible to spider mites; sun; 8 inches.


• TURK'S CAP (Malvaviscus) Like the Mexican Heather, arguable that it might be a shrub; unique red blooms, heart shaped leaves and hummingbirds love them; Prolific summer bloomer and through the fall; Can get really tall, often up to 5 feet.


• CIGAR PLANT (Cuphea micropetala): orange-yellow, cigar shaped flowers; prized by hummingbirds; blooms in fall; drought tolerant; heat loving; sun; 2 feet.


• DWARF INDIAN BLANKET (Gaillardia grandiflora): red-yellow, bi-color flowers; ever blooming, remove spent blooms to extend bloom time; heat and drought tolerant; full sun; 1 foot.


• SHRIMP PLANT (Justicia Brandegeana): extremely unique yellow or red-brown flowers; blooms April through June mostly. Some flower in fall; great cut flowers; sun to partial shade; 3 feet.


• TRAILING LANTANA (Lantana montevidensis): lilac flowers; blooms in spring, summer, fall; very drought tolerant; great as a groundcover, in containers or hanging baskets; sun or partial shade; 1 to 2 feet.


• BLUE PLUMBAGO (Plumbago auriculata): clusters of baby blue flowers; drought tolerant; well-drained soil; full to part sun; 2 to 3 feet.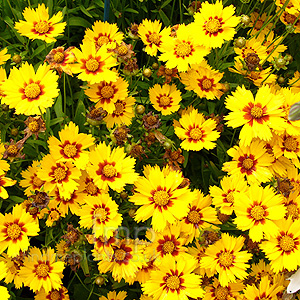 • COREOPSIS (Coreopsis grandiflora): yellow flowers, blooms late spring to summer; excellent landscape plant (Baby, Sun, and Early Sunrise are dwarf forms); 2 feet
Until next issue, here's to Great Gardening from the GardenLine, heard exclusively, 6-10 a.m. Saturdays and 7-10 a.m. Sundays, only on NewsRadio 740 KTRH.

Visit the GardenLine Home Page!
Randy's Tips Archive • Previous Newsletters • Podcasts • Appearances

G
ardenLine Listeners and E-mail Tip Subscribers can purchase a copy of my new book at discounted price!
Gulf Coast Gardening with Randy Lemmon
Check it out!
Garden retailers interested in stocking the book, should call the Nitro Phos Warehouse at 713-228-1868 for wholesale ordering information.
Click Here for
Our Printer-Friendly Version
Click Here for a complete
KTRH program schedule
E-mail The Editor. Please feel free to forward this issue to friends and associates. Anyone can subscribe for free.
For Advertising Information: Bo Brown, general sales manager - 713-212-8013; Nick Peterson, online sales manager - 713-212-8520
You are receiving this newsletter because you requested a subscription. This newsletter is optimized for Microsoft Outlook. If the newsletter doesn't display correctly in your e-mail program, see our online version. To unsubscribe, instructions are at the bottom of this page.

© 2009. Powered by Clear Channel's ktrh.com.