| | | |
| --- | --- | --- |
| March. 26, 2009 | Here's Randy's Weekly KTRH GardenLine Tip: | Issue #108 |
Fertilization Schedule - Green Light Means Go!
GardenLine Appearance
Saturday at Enchanted Forest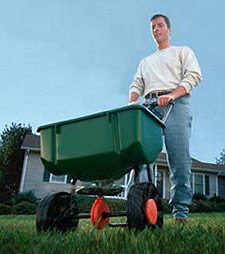 It is now time to START putting down the slow-release part of the Fertilization Schedule. Whether it's the Nitro Phos Super Turf, Easy Gro Premium, Southwest Fertilizer Premium Gold or Fertilome's Southwest Greenmaker, you have the green light to get busy. However, note that I say START! That's because it doesn't have to be done just this weekend, when in fact this is the START of a 30-45 day window in which it can and should be done. This is simply the "jumping off" point.

Just in case you are brand new to the show and/or The Schedule I speak of, please refer to it here.

For the rest of you LemmonHeads and GardenLine Disciples, I thought this week's tip sheet, regarding the timing of the fertilization application, was a great opportunity for what might otherwise be termed a "stream-of-consciousness" talk about The Schedule. It's really an opportunity to answer a rapid-fire succession of questions that have come in to my email regarding The Schedule.

If you think you are well-versed in following my schedule or you think you need no further help, don't be too quick to toss this email aside. At the bottom of this week's tip sheet we show you some awesome deals to be had at our appearance this Saturday. However, you have to scroll down past this Q & A Session to find out about them. But before we get to that, here are all those emails I have received in just that last two weeks pertaining to The Schedule. I think you'll find many of the questions quite interesting and somewhat entertaining. As always, I hope the answers are educational.

Q: Randy, it's supposed to be colder this weekend, so is it still okay to put out my 3-1-2, per your schedule?

A: Absolutely, because the success of the fertilizers on my schedule are predicated on soil temperature and one night in the forties is nothing, when all our highs after this weekend are back in the 80s

Q: I heard you mention "starting" the slow-release part of the schedule this weekend. Two questions: 1. I thought you didn't encourage that application until April, so why March now? 2. If I forgot the 15-5-10 application in February, do I still need to do that?

A: It's the "end of March/first of April" as noted on The Schedule, so if you didn't do the 15-5-10, it makes all the sense in the world to forgo that in favor of the slow-release 3-1-2/4-1-2 version. Remember too, we have until end of April/first of May to get down this "spring" application.

Q: I just did my fast-acting 15-5-10 two weeks ago; can I still do the slow-release this weekend?

A: You need to wait. There should be at least 30-45 days between the 15-5-10 and the slow-release application. If you put them down too close together you can "burn" the grass.

Q: Do I need to water in my fertilizer? Someone told me that the morning dew is enough to water it in.

A: That's true for one of the brand names on my schedule. But since the rest do need to be watered in; my suggestion has always been to water-in the fertilization no matter what the brand and no matter what time of the year.

Q: Can I let the rains water-in my fertilizer I just put down, or do I need to water it in further?

A: If you know you got a solid rain of ½ inch or more, then that is more than enough to water-in the fertilizer. If you have no idea how much rain, or if you're certain it was a light misting, you need to run some additional water over the fertilizer for full effect.

Q: Randy, I missed the pre-emergent back in February. Is it too late to apply it now when I do the slow-release part of the schedule?

A: One of our tenets is "It's never too late to do the Right Thing." And while you can and should put down a pre-emergent, don't be surprised if the timing is such that you missed blocking some of the weeds that like to pop up in April/May. This will also point to the importance of sticking to the timing of The Schedule.

Q: I've got a big yard and a spreader that attaches to my riding lawn mower, but I want to save time and mix my pre-emergent with the fertilizer. Is it okay to do that?


A: No, not at all! If you've never seen our Spreader Setting tip sheet, please take the time to read that, because as you will see they don't go down at the same rate. As a side bar, I usually find "engineers" ask that question quite a bit.

Q: I did the compost as a top dressing per your recommendation, but I've always followed your synthetic schedule. Do I need to shift to the "organic" schedule, and if not, is this going to be a problem?

A: I don't have a problem with you using compost as a top dressing and the synthetic schedule. Die-Hard Organics (Manic-Organics, as I call them) may burst a vessel in their forehead upon that recommendation. However, if you are interested in going organic it does make perfect sense to make that shift to the organic schedule. But that's mostly if you're using the compost as part of your fertilization schedule. But the compost as a top dressing followed by my synthetic schedule works just fine. The biggest difference is if you're interested in using organic fungicides in the future or using the compost as your brownpatch or take-all-patch control, then you really need to shift all the fertilization/compost treatments to the organic side of the aisle.

Q: I went to one of the nurseries you endorse, told them I wanted Nitro Phos to follow you schedule, and the guy there tried to talk me out of that in favor of their own organic fertilizer. I'm confused which way to go!

A: If you could care less whether it's organic or not, for me, the math/cost is the simple answer. If one bag of Nitro Phos can cover 7,500 square feet (a typical front and back yard) and it costs roughly 30 dollars a bag; but an organic fertilizer costs 25 dollars a bag but covers roughly 2,000 square feet, then tell me which is the better deal? Obviously the answer is the Nitro Phos. The good news is, you can't go wrong with either one, and the question ultimately is, are you ready to commit to the price increase that often comes with doing the organic schedule. Plus, you're the customer, if you tell them what fertilizer you're after, and they carry it, they should gladly go get what you ask for. You have to realize that when a nursery or garden center has their "own label" they make way more profit per bag, than if you buy another brand, so of course they are going to sell their bags much harder.


Enchanted Forest Appearance
This Saturday March 28th, 11 a.m. to 1 p.m.
Speaking of Nitro Phos Fertilizers, and as I alluded to earlier, there is a super special on Nitro Phos Super Turf at the nursery we are doing an appearance at this Saturday. The location is Enchanted Forest on FM 2759 And the deal is this: Nitro Phos Super Turf is only $19.99 a bag. And that deal is good at both Enchanted Forest and Enchanted Gardens. But if you come to Enchanted Forest on 2759, and you show us proof of purchase of 2 or more bags of Nitro Phos Super Turf, we will hook up the first 25 customers who do so with a now infamous LemmonHead T-Shirt.

Oh, by the way, Enchanted Forest and Enchanted Gardens have another couple of deals you may want to hear about, good only this weekend. First they have Double Knock Out Roses in 2-gallon size for only $12.99, which is nearly half-off the normal retail price. They also have Soil Mender's Hu-Max Soil Builder bags on sale for 5.99 a bag, which normally retails for $9.99 per bag.

And even if you don't need the Super Turf or Knock Out Roses or Soil Mender bags, you know we are giving away stuff from out prize closet. If you'll print out this email and bring it with you, we will likely hook you up with 2 freebies instead of just one. Also, if you are already a proud owner of a coveted LemmonHead T, wear it this weekend so we can get a picture of you in it. That too will earn you more than one of our freebies. And finally, they do have my book for sale at both locations, obviously if you want it signed, you need to come see me at the Enchanted Forest location on FM 2759 about 4 miles east of Crabb River Rd.


Until next issue, here's to Great Gardening from the GardenLine, heard exclusively, 6-10 a.m. Saturdays and 7-10 a.m. Sundays, only on NewsRadio 740 KTRH.

Visit the GardenLine Home Page!
Randy's Tips Archive • Previous Newsletters • Podcasts • Appearances

G
ardenLine Listeners and E-mail Tip Subscribers can purchase a copy of my new book at discounted price!
Gulf Coast Gardening with Randy Lemmon
Check it out!
Garden retailers interested in stocking the book, should call the Nitro Phos Warehouse at 713-228-1868 for wholesale ordering information.
Click Here for
Our Printer-Friendly Version
Click Here for a complete
KTRH program schedule
E-mail The Editor. Please feel free to forward this issue to friends and associates. Anyone can subscribe for free.
For Advertising Information: Bo Brown, general sales manager - 713-212-8013; Nick Peterson, online sales manager - 713-212-8520
You are receiving this newsletter because you requested a subscription. This newsletter is optimized for Microsoft Outlook. If the newsletter doesn't display correctly in your e-mail program, see our online version. To unsubscribe, instructions are at the bottom of this page.

© 2009. Powered by Clear Channel's ktrh.com.