| | | |
| --- | --- | --- |
| December. 18, 2008 | Here's Randy's Weekly KTRH GardenLine Tip: | Issue #96 |
GRAFTING NON-PRODUCING CITRUS AND AVACADO;
CLINIC AT URBAN HARVEST FEBRUARY 21ST
This week's email tip has been authored by one of our frequent contributors/guests, Angela Chandler. As you long-time GardenLine Faithful know, she is the coordinator of the Master Gardener gardens at Harris County Precinct 2. The subject came up more than once this past weekend, during our fruit tree discussion (which, we will do again this Sunday) that non-producing citrus and avocados can have productive trees grafted to them. So, several times our guest referred to a grafting class that will be held at The Urban Harvest. Thus, I asked her to write about it for this weeks' tip.
-Randy


Homeowners sometimes find they have a citrus or avocado tree growing in their yard that is perfectly healthy and vigorous but does not produce flavorful fruits. It may be a tree that grew out of a kitchen-window project or a compost pile, or may have been inherited with the property and have unknown origins. The usual advice has been to dig this one out and replace it with a desirable variety, but it seems a shame to waste a perfectly healthy tree with a well-established rootball.


A better solution would be to contact a local grafter and have dependable, flavorful varieties grafted to the established tree. Grafting fruit trees in the home orchard used to be a common practice. The local grafting expert would have scion wood stored at the ready when the season began. He would move from home orchard to home orchard grafting desirable varieties onto native or seedling rootstocks. As homesteads shrunk and lifestyles changed, fewer fruit trees were grown in the "typical" suburban landscape and the demand for this skill waned. The resurgence of interest in producing one's own fruits in the home garden has brought it back into demand. Thankfully, we still have talented grafters available in our area.

If your seedling tree is a good candidate for grafting, contact Urban Harvest for a list of grafters that could assist you. The grafter can offer advice on what varieties might be suitable for your tree and for your taste preferences. Depending on the size and maturity of your tree, you may find that multiple varieties could be grafted _ a "fruit cocktail" tree.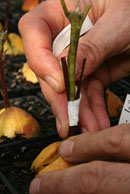 If you are interested in developing this time-honored skill for yourself, or just wish to learn more about grafting and home fruit production, Urban Harvest is offering several classes to support your interest. On Saturday, February 21, Bonnie Childers will be conducting a class on grafting. Childers is a skilled grafter and a superb teacher. He will teach several grafting techniques in the two and one-half hour class. Each student will then graft their own citrus to take home.

The class will be offered from 9:30 am to noon, and again from 12:30 to 3:00 pm. There is a fee for the class, and an additional fee for the grafting stock and supplies. Registration is required at least fourteen (14) days before the class. You may register at 713-880-5540.

In addition to the grafting class, Urban Harvest is also offering classes of interest to anyone wishing to grow their own fruit – The Backyard Orchard Series, The Hands-on Fruit Tree Pruning Series, High-Density Home Orchard Management, The Fruit Tree Sale Prep, and Home Fruit & Vegetable Gardening. Information on these classes can be found at www.urbanharvest.org.
Until next issue, here's to Great Gardening from the GardenLine, heard exclusively, 6-10 a.m. Saturdays and 7-10 a.m. Sundays, only on NewsRadio 740 KTRH.

Visit the GardenLine Home Page!
Randy's Tips Archive • Previous Newsletters • Podcasts • Appearances

GardenLine Listeners and E-mail Tip Subscribers can purchase a copy of my new book at discounted price!
Gulf Coast Gardening with Randy Lemmon
Check it out!
Garden retailers interested in stocking the book, should call the Nitro Phos Warehouse at 713-228-1868 for wholesale ordering information.




Click Here for
Our Printer-Friendly Version
Click Here for a complete
KTRH program schedule
E-mail The Editor. Please feel free to forward this issue to friends and associates. Anyone can subscribe for free.
For Advertising Information: Bo Brown, general sales manager - 713-212-8013; Nick Peterson, online sales manager - 713-212-8520
You are receiving this newsletter because you requested a subscription. This newsletter is optimized for Microsoft Outlook. If the newsletter doesn't display correctly in your e-mail program, see our online version. To unsubscribe, instructions are at the bottom of this page.

© 2008. Powered by Clear Channel's ktrh.com.
This listener newsletter copyright © 2008. Powered by Clear Channel's ktrh.com.