KTRH GardenLine Newsletter

December. 11, 2008 - Issue #95

Here's Randy's Weekly KTRH GardenLine Tip:


2009 Fruit Tree Sale Schedule
Gardening with fruit trees will probably take on an added importance over the next several years thanks to (perceived or not) what is happening with the economy. Combine that with the renewed push to self-sufficient gardening and with the annual fervor associated with what I've referred to for years as the Master Gardener's/Treesearch Farms Fruit Tree Sale Season, and this year's sales promise to be super exciting, to say the least. By the way, let's just officially call it the Fruit Tree Sale Season.


Frankly, it's hard to believe we are just a few short weeks from the start of the 'fruit tree sale season'. But then again, I've been peppered with all kinds of questions in just the past two weeks like-" Randy, what orange do recommend for this area and where do I get it?" So, I've got to tell you, no matter what the fruit, be it peaches, oranges, lemons, pears, plums, figs, or pecans, the answer to the second part of that question is always "GET TO ONE OF THE FRUIT TREE SALES IN JANUARY AND FEBRUARY."


Yes, many nurseries and garden centers have some of these for sale in the early part of the year. However, never are there as many different varieties of a specific fruit as you can get at a Fruit Tree Sales Season event. And other than The Arbor Gate's event, I can't think of any other nursery that has a fruit tree sales event that does the seminar before the sale. The biggest 'BUT' in all of this, is I don't know the exact stock for each of these sales in each of the categories, nor am I going to guess. Simply put, that is what the seminars are for. Call them a 'Plant Preview', if you will. Those seminars are the ultimate chance to see exactly what fruits in each category are going to be for sale at that specific event. Plus, the ultimate added benefit by sitting in on any of these seminars (specifically the ones before the actual sale) is that you're sort of first in line.

Just to give you a small idea (or a perfect example) of what I'm talking about, please take the time to link to the Urban Harvest website, and see the list of plants they will be profiling and previewing in their two seminars--which by the way are a few days before their actual sales event. This link is just for the orange varieties available at the Urban Harvest event. You'll see what I mean. Conversely, there are some of the smaller counties, like Brazoria County, that have more limited supplies of specific fruits, but at least you know they are the right ones for this area.


Yes, I make an extremely big deal about this Fruit Tree Sale Season, and the reasons why grow more numerous each and every year. Whether it's the once-a-year opportunity to get the correct-chill-hour peach for this region, or the newest cold-hardy citrus, there is no other event or events that encompass such a wide variety of THE RIGHT fruits for this area. And it's become even more than just having the right variety. You may never appreciate the attention to detail that is paid to picking out varieties with suitable chill hours, hardiness, disease and insect resistance, and fruit quality. Then, there's the seminars/plant previews where you can learn how to plant, prune, feed and basically care for the specific fruit tree you are so desirous of.

If I still did documentary work, or video montages like I did in my days at Texas A&M and The Texas Farm Bureau, I would love to be out there shooting each one of these events from beginning to end. Mainly because of the exciting events they have become. Rain or shine, people will line up very early (you'll think it's early- voting lines all over again) in child-like anticipation of getting their hands on that Republic of Texas orange as an example. Most people begin talking to their neighbor in line comparing what they are after and what they already have in their "home orchard." While I'm always on the air during these events, my friend Angela Chandler (Who just so happens to organize the Harris County Precinct 2 Sale) notes that you can always spot the fruit tree sale veterans, as they are the ones with a good jacket, a clipboard packed with notes and a reference material or two. They too bring their own wagons a bag of probably some food and a thermos of coffee and a 'just-in-case' umbrella.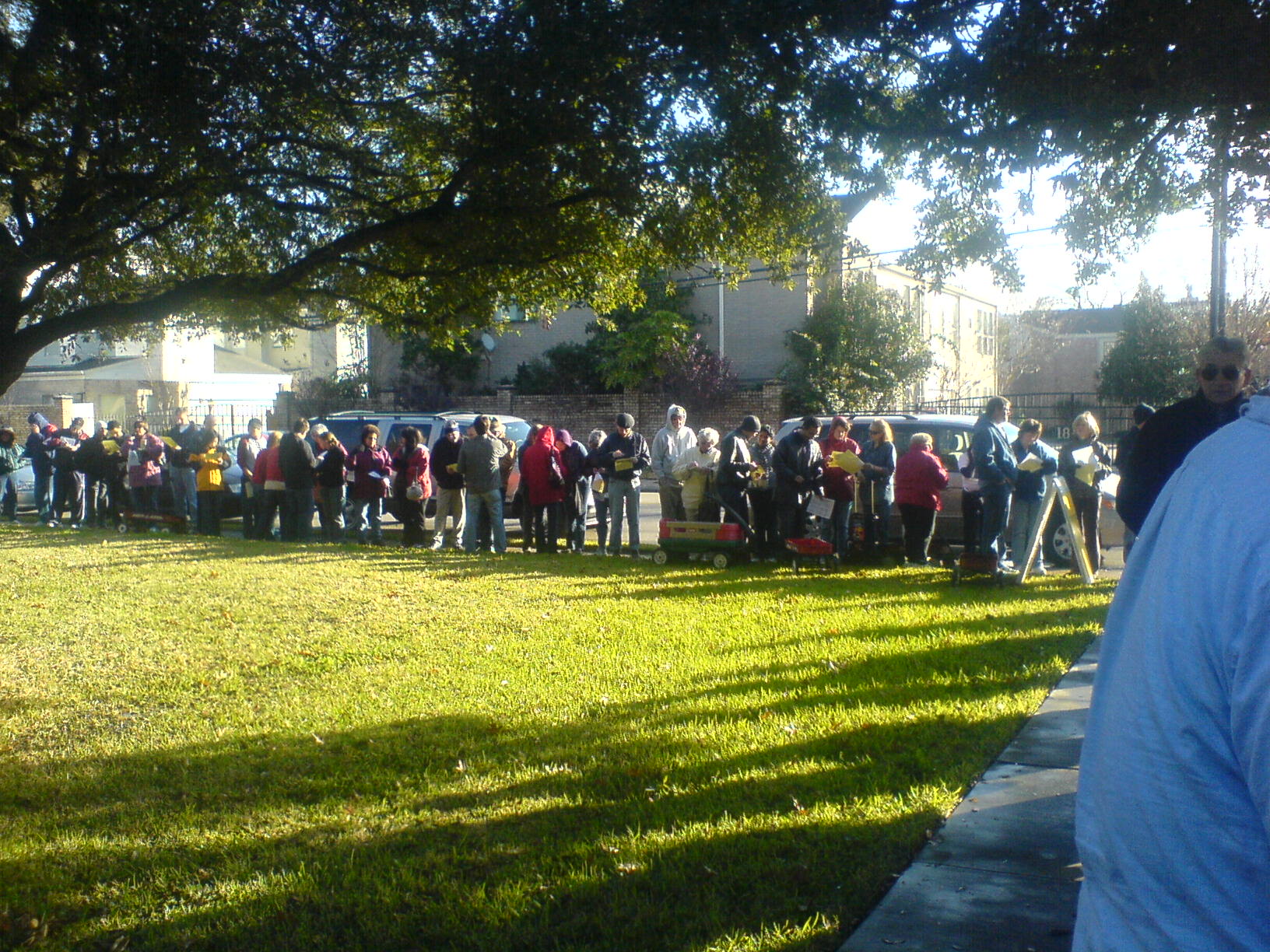 My last bit of advice before we get to the complete Fruit Tree Sale Schedule for 2009 is to make sure you pick up a catalog provided at nearly each event. In some cases, it may be more of a flyer. This way you can make notes and mark the variety you really want. Plus, it can really make you more educated for the 2010 Fruit Tree Sale Season – nudge, nudge; wink, wink!
So, without further ado, here's is the 2009 Fruit Tree Sale Schedule:

January 10th (Saturday)
Harris County Master Gardeners
Seminar 8-9 a.m. Ethan Natelson
Sale 9 – 2 p.m.
3033 Bear Creek Drive (just W. of Hwy 6)
281-855-5600
www.harris-tx.tamu.edu/

January 17th (Saturday)
Urban Harvest at Rice Stadium Parking Lot
Jan 17th – Rice Stadium Parking Lot
Seminar January 10th from Noon to 2 p.m. Ray Sher & Heidi Sheesley
Seminar January 13th from 6:30 – 8:30 p.m. Ray Sher & Heidi Sheesley
Seminars are at Urban Harvest offices
2311 Canal Street
713-880-5540
www.urbanharvest.org

January 25th (Sunday)
The Arbor Gate
Seminar 9-10 a.m. Heidi Sheesley
Sale 10:30 to 2:30 p.m.
15635 FM 2920 (1.5 Miles West of 249)
Tomball, TX
281-351-8851
www.arborgate.com

January 31st (Saturday)
Montgomery County Master Gardeners
Seminar: 8 – 9 a.m. Tom Leroy
Sale: 9 – 1 p.m.
Montgomery County Extension Center
9020 FM 1484, Conroe
(just south of Montg. Co. Fairgrounds)
936-539-7824

February 7th (Saturday)
Galveston County Master Gardeners
Seminar: 8 - 9 a.m. Heidi Sheesley
Sale: 9-2 p.m.
Wayne Johnson Community Center
Carbide Park on FM 519
LaMarque, TX
www.aggie-horticulture.tamu.edu/

February 14th (Saturday)
Fort Bend County Master Gardeners
Seminar: 8 - 9 a.m. Heidi Sheesley
Sale: 9 – 1 p.m.
Fort Bend Co. Fairgrounds
4130 Hwy 36, Rosenberg, TX
281-341-7086
www.fbmg.com

February 21st (Saturday)
Brazoria County Master Gardeners
Sale: 8 a.m. to Noon
Hospital Dr. at County Rd. 171
Angelton, TX
979-864-1558

February 28th (Saturday)
Harris County Precinct 2 Master Gardeners
Seminar: 8 – 9 a.m. Heidi Sheesley
Sale: 9 – 2 p.m.
Meeting Room at Clear Lake Park
5000 Nasa Rd. 1
281-991-8437
www.hcmgap2.tamu.edu
Until next issue, here's to Great Gardening from the GardenLine, heard exclusively, 6-10 a.m. Saturdays and 7-10 a.m. Sundays, only on NewsRadio 740 KTRH.

Visit the GardenLine Home Page!
Randy's Tips Archive • Previous Newsletters • Podcasts • Appearances
---
---
GardenLine Listeners and E-mail Tip Subscribers can purchase a copy of my new book at discounted price! Check it out! "Gulf Coast Gardening with Randy Lemmon"
Garden retailers interested in stocking the book, should call the Nitro Phos Warehouse at 713-228-1868 for wholesale ordering information.

CONTACT INFORMATION
E-mail The Editor. Please feel free to forward this issue to friends and associates.
Anyone can subscribe for free. For Advertising Information: Bo Brown, general sales manager - 713-212-8013; Nick Peterson, online sales manager - 713-212-8520.
You are receiving this newsletter because you requested a subscription. This newsletter is optimized for Microsoft Outlook. If the newsletter doesn't display correctly in your e-mail program, see our online version. To unsubscribe, instructions are at the bottom of this page. Click Here for a complete KTRH program schedule.

©2008. Powered by Clear Channel's ktrh.com.