KTRH GardenLine Newsletter

October. 22, 2009 - Issue #137

Here's Randy's Weekly KTRH GardenLine Tip:


Fun With Mulch at...
GardenLine Appearance at Plants For All Seasons
Saturday October 24th, 11 a.m. to 1 p.m.
(Louetta & 249)
Someone threw a tizzy-fit in the mulch/soil yard businesses the other day, because I said in a television story that "I don't care what you dye it with, if it's "dyed" mulch it can't be doing anything good to the soil." They were upset because they believed I said their "inert" mulch was poisoning the soils. Well, one thing that holds true to this day is that "people hear only what hey want to hear".

I have said that ash-infused mulches are caustic to soils because of their extremely high pH (alkalinity). There's even been a new strain of extremely low pH (excessive acidity) ash infused mulch that obviously came from some industrial waste. And I've said over and over that there are some dyed mulches that use inert material (those dyed with things like soybean oil) that have absolutely no effect on the biology of the soil, because they are so neutral, they are inert.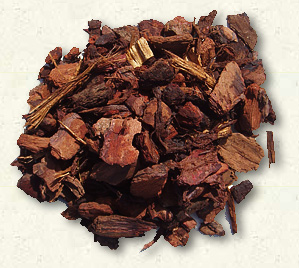 But since we would like out mulches and should have our mulches help add beneficial elements to the soils, it obviously doesn't make sense to add caustic material, nor does it make sense to add neutral material either. Simply put, we benefit from slightly acidic/slightly lowered pH levels to help benefit our beds in the long run

And have I got a challenge for you this weekend, so you can get the proverbial "full-circle-mulch-experience. We are going to rip open every conceivable form of mulch that is readily available on the market today, in order to let you look, feel, smell and touch them. And maybe, just maybe we can help turn some people away from this overtly dark, and ultimately dangerous to worthless mulch that has so infiltrated the market these days.

One might assume that the GardenLine Faithful/Lemmonheads out there could pick out the best and the worst mulches if you can look, feel, smell and touch them all. But this could also make for a fun quiz that could earn you a huge allotment of freebies at our appearance this Saturday.


Here's what I plan on doing this weekend at Plants For All Seasons from 11 a.m. to 1 p.m. during out next GardenLine Appearance. I am going to rip open and set up testing trays for upwards of 8 different mulches. Some will be good and some will be purposefully bad. Your goal is to rate them, in order, from best to worst. And if you get the order correctly you will win a bag full of our freebies.

I think this is appropriate because Plants For All Seasons carries a number of the highly recommended varieties of mulch I recommend. If you don't want to get your hands dirty, or if you don't care about mulch in general (although you should) don't let that stop you from coming to see us at Plants For All Seasons, because their color is magnificent and this is one of the best weekends ever for putting in fall color. They'll have some food goodies for free as well as a load of free products from Lady Bug Natural to give out as well.

So, come get your hands dirty and earn some extra freebies, come get some great color for the fall, come get some free food, and lastly if you spend 50 or more dollars at Plants For All Season at 249 & Louetta, they will give you a great discount on my book.
The new KTRH streaming widget lets you take NewsRadio 740 with you anywhere you go!
Place it on your blog, Facebook, Myspace and other social network sites by simply clicking the "Get & Share" button!
CLICK HERE TO GET YOURS
!
Until next issue, here's to Great Gardening from the GardenLine, heard exclusively, 6-10 a.m. Saturdays and 7-10 a.m. Sundays, only on NewsRadio 740 KTRH.

Visit the GardenLine Home Page!
Randy's Tips Archive • Previous Newsletters • Podcasts • Appearances

Visit the GardenLine Facebook Page!

| | |   |   |
| --- | --- | --- | --- |


GardenLine Listeners and E-mail Tip Subscribers can purchase a copy of my new book at discounted price! Check it out! "Gulf Coast Gardening with Randy Lemmon"
Garden retailers interested in stocking the book, should call the Nitro Phos Warehouse at 713-228-1868 for wholesale ordering information.

CONTACT INFORMATION
E-mail The Editor. Please feel free to forward this issue to friends and associates.
Anyone can subscribe for free. For Advertising Information: Bo Brown, general sales manager - 713-212-8013; Nick Peterson, online sales manager - 713-212-8520.
You are receiving this newsletter because you requested a subscription. This newsletter is optimized for Microsoft Outlook. If the newsletter doesn't display correctly in your e-mail program, see our online version. To unsubscribe, instructions are at the bottom of this page. Click Here for a complete KTRH program schedule.

©2009. Powered by Clear Channel's ktrh.com.