| | | |
| --- | --- | --- |
| January. 15, 2009 | Here's Randy's Weekly KTRH GardenLine Tip: | Issue #98 |
YEAR-ROUND FRUIT FROM YOUR BACKYARD
In honor of the myriad of Fruit Tree Sales that began last weekend, I thought it was worth re-working the year-round fruit tree harvest schedule that Ray Sher with The Urban Harvest and Bayou City Farmers Market put together some two years ago. If you haven't seen the Fruit Tree Sale Schedule, Click Here.

Although Houston is not the tropics where you can see fruit hanging from trees everywhere you look, we are able to harvest fruit in every month of the year. All you need to do is carefully select the types and varieties of trees that can give you fruit every month of the year. Variety selection is important for taste, hardiness and ripening time. For instance, different varieties of satsumas are ripe from September through December, and different varieties of oranges are ripe from early December through February, and different varieties of figs from June through August. We can give you a little help variety selection. Here too is a link where you can print out all the fruits and their months of harvest in an Excel Format, Click Here.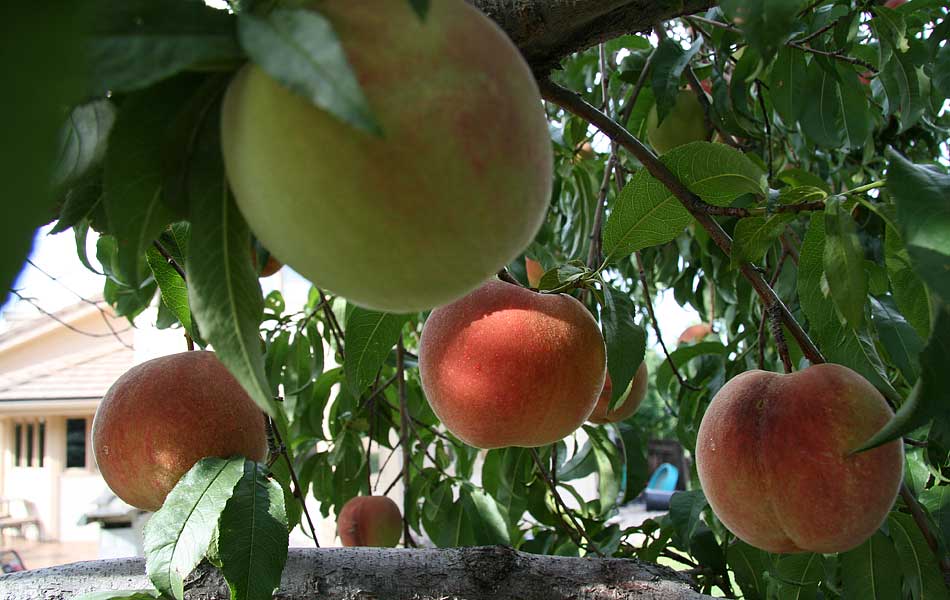 1. January – Republic of Texas orange, almost all grapefruit, lemons, limequats, Calamondin, kumquats, limes
2. February – Kumquats, limequats, Valencia, Sanguinelli blood and other late ripening oranges, loquats, Calamondin, lemons
3. March – Strawberries, loquats, kumquats, limequats, lemonquat, Calamondin
4. April – Strawberries, blueberries, mayhaws
5. May – Strawberries, peaches, blueberries, nectarines, plums, apricots
6. June –Peaches, nectarines, Celeste Fig, Anna and Dorsett Golden apples, cantaloupe
7. July – LSU Purple fig and Banana Fig, cantaloupe, Mortensen bunch grapes, pears, jujubes
8. August – Mysteak fig, Mortensen bunch grapes, pears, hybrid muscadine grapes, pomegranates
9. September – Dobashi-beni, Okitsu and BC2 satsumas, bananas, avocado, papaya, guava
10. October – persimmons, pineapple guava (feijoa), pecans, bananas, avocados, papaya, guava, satsumas, limes
11. November – Calamondin, persimmons, Changsha tangerine, Fairchild and Page tangelos, mid season satsumas, limes
12. December – Calamondin, persimmons, Bloomsweet, Golden and most of the red varieties of grapefruit, Pong Koa mandarin, Moro blood orange, Marrs orange, Cara Cara orange, lemons, Owari and Vermillion satsumas, limes

As mentioned earlier, it is important to do a little investigation to determine the varieties of fruit that work well in the climate in which you live. There are many good sources of information including the Urban Harvest website and the fruit study group that meets at the Harris County Agricultural Extension Service in Bear Creek Park.

You can also drop by the Bayou City Farmers' Market (3000 Richmond at Eastside in the parking lot behind the building) on Saturday mornings from 8 to noon and Wednesday afternoons from 4 to 7 to taste some of these freshly picked fruits being sold by local growers during their harvest seasons.


Until next issue, here's to Great Gardening from the GardenLine, heard exclusively, 6-10 a.m. Saturdays and 7-10 a.m. Sundays, only on NewsRadio 740 KTRH.

Visit the GardenLine Home Page!
Randy's Tips Archive • Previous Newsletters • Podcasts • Appearances

GardenLine Listeners and E-mail Tip Subscribers can purchase a copy of my new book at discounted price!
Gulf Coast Gardening with Randy Lemmon
Check it out!
Garden retailers interested in stocking the book, should call the Nitro Phos Warehouse at 713-228-1868 for wholesale ordering information.




Click Here for
Our Printer-Friendly Version
Click Here for a complete
KTRH program schedule
E-mail The Editor. Please feel free to forward this issue to friends and associates. Anyone can subscribe for free.
For Advertising Information: Bo Brown, general sales manager - 713-212-8013; Nick Peterson, online sales manager - 713-212-8520
You are receiving this newsletter because you requested a subscription. This newsletter is optimized for Microsoft Outlook. If the newsletter doesn't display correctly in your e-mail program, see our online version. To unsubscribe, instructions are at the bottom of this page.

© 2009. Powered by Clear Channel's ktrh.com.
This listener newsletter copyright © 2008. Powered by Clear Channel's ktrh.com.